Welsh Under 21's Event Two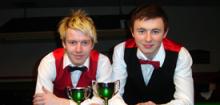 Duane Jones (Mountain Ash) won the second, and his second Under 21 Ranking Event of the season by defeating Dale Lawrence (Swansea) in a very close final.
Dale reached the final with an excellent win over the no two seed, Edward Topham (Cardiff) while Duane had an impressive 3-0 victory over fellow junior international Kristian Phelps (Swansea). Kristian had an equally impressive 3-0 win over Kishan Hirani (Cardiff) at the quarter final stage.
This win sees Duane Jones maintain his no#1 position on the ranking list with Edward Topham also consolidating his position at no#2 Dale Lawrence rises to joint 3rd with Kishan Hirani.
Results Table:
Kishan Hirani
0
Kristian Phelps
3
Kristian Phelps
0
Jamie Clarke
2
Duane Jones

3
Duane Jones
3
Duane Jones
3
Duane Jones
Munzir Sadiq
scr


Dale Lawrence
2
Dale Lawrence
w/o
Dale Lawrence
3
Edward Topham

3
Edward Topham
1
Calum Lloyd
1