Clean sweep for Tyler Rees in Welsh Under 14's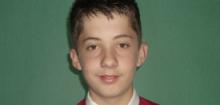 Tyler Rees proved himself the dominant force in Welsh Under 14's snooker as he won this last event of the season to make it a clean sweep, 4 out of 4. A result that puts him on top of the ranking list and also Welsh under 14s Champion. A massive achievement, well done Tyler.
Llewys Graham reached his second final of the season after beating junior international Jack Martin in their semi final. Llewys was very unlucky not to make the Welsh team last season but he has now put that right by finishing no.2 on the ranking list.
In the final Tyler was to strong on this occasion but Llewys did manage to take a frame, the only frame Tyler had dropped on his way to the title.
It has been a good Under 14's season with several young players including Callum Matthews, Jackson Page, Alfie Davies, Jack Martin and Jordan Bowd among others, all showing improvement and potential.
A special mention must go to young Liam Davies only 6 years old who Welsh coach Paul Taylor has marked out as one to watch for the future.
Wales Under 14's and Under 16's take on Rep of Ireland in Carlow, Rep Ireland on June 22nd.
Travelling on Fri 21st returning on Sun 23rd.
As several players have qualified in both age groups some shuffling around will be necessary in order to field two teams that we feel are capable of retaining the Celtic challenge trophy that we have held for the past 6 years.
As soon as teams have been formulated, players and parents will be contacted with details of the trip.
Results Table:
Tyler Rees

2
Declan Peers

0
Tyler Rees

2
Jordan Bowd

2

Jordan Bowd



0
Connor Caniff

1

Tyler Rees



3

Tyler Rees



Jack Martin

2

Llewys Graham



1
Alfie Davies

0

Jack Martin



0
Llewys Graham

2
Llewys Graham

2
Bradley Ferguson

0