David John Welsh Amateur Champion 2012-13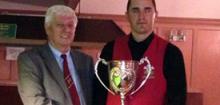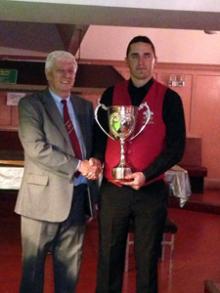 David John (Bridgend) won the 2013 Welsh Amateur Championship beating Alex Taubman (Holywell) by eight frames to four in the final at Merthyr Labour Club.
After winning back to back European Championships in 2002 and 2003 David has had ten lean years during which he suffered a lack of confidence in matches at the top level.
He reached the 2011 Welsh final but could not find his touch and was beaten by Daniel Wells.
However, recent form has elevated him to the top of the Welsh rankings. He travels to the IBSF World Amateur Championships in Riga, Latvia later this year to represent Wales and will be a major contender.
Last month he was a member of the three man Wales team which lifted the European Team Championship in Serbia.
The final was a tense affair at first but both players eventually found their form making several breaks over forty. A turning point came in frame three with David John requiring snookers and winning on a re-spotted black. The first session ended with him leading by four frames to three.
He then stepped up a gear making breaks of 90, 71 and 55 to extend his lead. Despite several useful contributions Taubman only won one frame in the evening session.
Alex now heads to World Snooker's three Q-SCHOOL events starting on May 11th. He and several other promising young Welsh players will be attempting to gain places on professional snooker's Main Tour next season.