John Payne and Mark Stoneman are the Welsh Pairs Champions 2012-13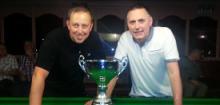 With conditions perfect at Merthyr Labour Club the final of the 2013 Welsh Pairs Championship was a cracker. Former Welsh Champion John Payne and Mark Stoneman won a great match by four frames to three.
Defending champions John Bevan and David Hard gave their all recovering from a snookers required situation in the final frame only to fail on the last black.
International referee Peter Thomas had to be on top of his game with the first four frames completed in under an hour.
Stoneman made a break of forty eight to take the first frame and won the second on the black after a run of thirty nine.
At this point Bevan and Hard went into overdrive winning frame three with a break of fifty seven. Frame four produced runs of forty four and a clearance of eighty two by Hard.
After the interval Bevan compiled a brilliant clearance of a hundred and nineteen to take the lead for the first time.
Stoneman opened frame six with forty five. Bevan responded with a run of fifty three including three incredible flukes. However, it was not enough to win the frame and the match went into a decider.
The final frame produced great safety play from both pairs but it was Payne and Stoneman who got themselves into a thirty point lead on the yellow. Two fantastic snookers from their opponents gave them a great chance to steal it.
Hard cleared the colours to the black but over-hit his safety shot leaving the black for Payne to convert and win the match.