Welsh Under 19's Event Two
Edward Topham (Cardiff) recorded his first ever win in a Welsh Ranking event as he triumphed in this the second Under 19's event of the season.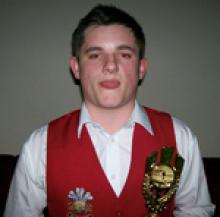 Having reached the final of the first Under 21's event it proves that Edward is beginning to add consistency to his overall game. A tough draw saw him defeat junior internationals Rhys Thomas, Tom Rees and Kishan Hirani before overcoming the very dangerous Jamie Clarke in an excellent final that went to the final frame.
Jamie, who was Welsh Champion at three different age categories last year, has yet to get back to winning ways. He did show glimpses of his undoubted talent in this tournament, most noticeably a fine semi final win over old adversary, Duane Jones.
In the final Jamie led two frames to one, but Edward, showing tremendous determination managed to clinch the final frame to win what was a very high quality, entertaining match.
The Plate
The plate competition was won by junior international Kristian Phelps (Swansea) who defeated Welsh Under 16's No.1 Travis Furnish (Cardiff) in the final.
With two of the four Under 19's ranking events now played, Duane Jones holds on to top spot, with Edward Topham jumping up several places into second spot.
Ranking List Top 6 (After event two)
Duane Jones 680 points
Edward Topham 620 points
Jamie Clarke 560 points
Kishan Hirani 500 points
Callum Lloyd 500 points
Tom Rees 500 points
Results Table:
Duane Jones

2
Dale Hughes

0
Duane Jones
0
Jamie Clarke

2
Jamie Clarke

2
Callum Lloyd

1
Jamie Clarke
2
Edward Topham
Edward Topham
2
Edward Topham
3
Tom Rees

1
Edward Topham
2
Kishan Hirani

2
Kishan Hirani
1
Luke Haines

1