Under 16's Event Two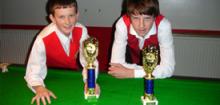 Travis Furnish, (Cardiff) better known as a pool player, earned the right to be recognised as a "proper snooker player" by winning his second Under 16's ranking event in succession.
The final was a repeat of event one as No. 2 seed Rhys Thomas (Caerphilly) came through the bottom half of the draw. However he was a little fortunate to get past the first round. After making a break of 72 in the very first frame he just managed to scramble the final black in for a 2-1 victory over the improving Jac Wathan.(Swansea)
Junior International Callum Lloyd (Tredegar) again failed to live up to his "tournament favourite" billing, going out at the semi final stage despite making breaks of 45, 50 and 63 along the way. Perhaps proof that this game is not "just" about potting and break making.
Furnish's easy going, laid back approach seems to get him through a lot of tough matches. He was taken all the way in the quarters by Ryan Rowlands (Barry) by Swansea's Joshua Jordan (who had done extremely well to reach his first ranking event semi final) and again in the final, where he produced another very cool, high quality display to take his second Under 16's ranking event win of the season.
The Plate
Barry's Rhydian Stringer won the plate competition defeating Elliot Thomas (Bridgend) 2-0 in the final.
This result sees Travis Furnish well established as number 1 on the Under 16's ranking list, but with two events left to play several other players could yet stake a claim for international team places.
Travis Furnish 800 points
Rhys Thomas 680 points
Callum Lloyd 500 points
Ethan Chichester 500 points
McCauley Coloe 440 points
Ryan Rowlands 420 points
Results Table:
Travis Furnish
2
Ryan Rowlands

1
Travis Furnish
2
Joshua Jordan

2
Joshua Jordan
1
McCauley Cole

0
Travis Furnish
3
Travis Furnish
Callum Lloyd

2
Rhys Thomas
2
Ethan Chichester
0
Callum Lloyd
1
Rhys Thomas
2
Rhys Thomas
2
Daniel Roberts
0