Duane Jones wins Welsh Men's Event four (Jack Carney Memorial)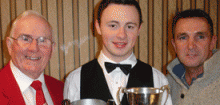 Duane Jones proved himself to be the best amateur in Wales when he won Men's Event Four (Jack Carney Memorial) at Snookerworld Ammanford.
Twice European Champion David John's revival continued with good wins over Sam Thomas and Gareth Allen but he was no match for Jones in the final.
Despite feeling unwell on the day, Event Three winner Alex Taubman beat Ben Jones and was only narrowly defeated by Jones in the semi-final.
Duane Jones, John Bevan and David John will be the Wales team for the European Team Championship in Serbia this March.
Break Board
David John 55, 61, 83
Jamie Clarke 81
Sam Thomas 57
Gareth Allen 62
Ben Jones 57
Results Table:
Sam Thomas

0
David John

3
David John
3
Gareth Allen

3
Gareth Allen
1
Jamie Clarke

2
David John
0
Duane Jones
Gavin Lewis

1
Duane Jones
3
Duane Jones
3
Duane Jones
3
Ben Jones

2
Alex Taubman
2
Alex Taubman

3