Welsh Under 21's Event One
For the first time this event was played on a round robin format with the winners of 8 groups going through to the last 8 knockout stage.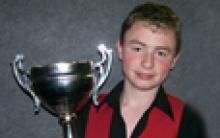 For this first event, the top 8 seeds from last season's Under 21s series were put into separate groups, the rest of the draw was random. The qualifying groups were played in Snooker World Ammanford and Rileys Wellington Cardiff, the last 8 being played at Pockets Snooker Club in Newport on the following Saturday.
This new format seemed to go down well with all players who like the fact that everyone is now playing more frames and more matches. With the European and World Under 21 Champion being invited to join the professional main tour, this is a much surer method of finding the in form Welsh players to represent us at these events.
In Ammanford the qualifiers were Jamie Tudor, Tom Rees, Duane Jones and David Huxton.
Jamie Tudor, in particular did well to come through a very strong group which included Junior internationals Jamie Clarke and Dale Lawrence.
In Cardiff, Kishan Hirani, Munzir Sadiq, Luke Haines and Edward Topham qualified.
Finals
The draw for the last 8 knockout stage was done on the day. Duane Jones was given permission to arrive late as he was having his driving test early Saturday morning. It turned out to be a good day for Duane, as he not only passed his test, but went on to win the tournament as well.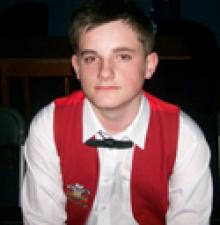 Although, in the final fellow junior international Edward Topham always seemed to be in control of the match. He led 1-0, and 2-1 before Duane levelled at 2-2. In the final frame Edward led by 40 points with just a few reds remaining, but seemed to be just a bit too eager to finish the match off. He went for several risky shots, eventually letting Duane in for a superb 62 clearance that gave him frame and match, and his second junior ranking event win of the season.
Results Table:
Duane Jones
3
Jamie Tudor
0
Duane Jones
3
Kishan Hirani
3
Kishan Hirani
0
Munzir Sadiq
0
Duane Jones
3
Duane Jones
Luke Haines
3
Edward Topham
2
Tom Rees
1
Luke Haines
1
Edward Topham
3
Edward Topham
3
David Huxton
1