Wales Crowned European Masters (over 40's) Champions 2013-14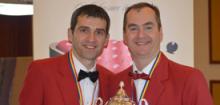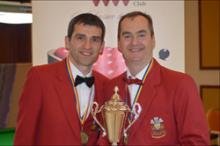 Wayne Morgan (Cross Keys) and Peter Roscoe (Llanrug) won the 2014 European Masters (over 40s) Championship for Wales at Bucharest Romania.
Dropping only three frames in the knockout stages the Welsh duo was far too good for the rest of the field.
It was putting maximum effort into every shot of every frame that gained them the victory they thoroughly deserved.
Although several matches, especially the final against Belgium's Mario Van Helk and Alain Vandersteen, were very close the Welsh pair raised their game every time required to seal victory.
Next target for them will be the World Team Championships later in the year.
Results Table:
Wales
4

Romania



1

Wales



4

Ireland



4

Ireland



1

Ukraine



1

Wales



4

Wales




England



4

Belgium



1

Scotland



2

England



2

Belgium



4

Belgium



4

Germany



2