Jack Carney Memorial tournament (Ranking Event 4)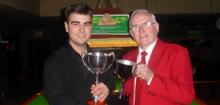 The Finals of the Jack Carney Memorial tournament (Ranking Event 4) took place in the TG Matchroom in Llanelli on Sunday the 19th of January 2014.
The Quarter final between Lee Walker and Ben Jones turned out to be a lengthy affair with both players showing a lot of safety. Walker managed to go ahead the first two frames before Jones knocked in a 42 break to take frame three. Walker was able to secure the fourth frame to win the match 3-1.
The Gareth Allen / Andy Rogers match was an exciting match with both players going for their shots.With Allen having breaks of 88 and 52 wasn't enough to keep Rogers at bay. With a last frame break 54 was enough to secure the win for Rogers 3-2.
Alex Taubman travelling down from North Wales ended up having an off day going down 3-0 to current Welsh Champion David John.
Another hard fought match came from the last Quarter Final match between Rhydian Richards and Jamie Clarke. Jamie took the first two frames which included a break of 69 before Rhydian came back with a 53 in frame three. There was no holding Clarke in frame four went he went on to win the frame and match 3-1.
The Semi's turned into a mixed bag. With the Walker/Rogers match being hard fought throughout, with Walker winning through to the Final with a 3-2 result.
The semi with David John/Jamie Clarke was expected to be hard fought. As it turned out Clarke raised his game to an unexpected level to come out a 3-0 victor which included a break of 54.
The Final, between Long established ex pro. Lee Walker and the young pretender Jamie Clarke we thought would be a pleasure to watch, we were not disappointed. Jamie set the bar winning the first two frames before Walker came back with a break of 74 to take frame three and 43 in the fourth to draw level at two frames apiece. Clarke managed a break of 46 in the last which left Walker needing too many snookers. Clarke going out the winner 3 frames to 2 to take the Jack Carney Memorial Trophy.
Highest Breaks
Jamie Clarke - 69,54,46
Lee Walker - 74, 47, 43
Andy Rogers 54,37
Gareth Allen - 88, 52
Rhdian Richards 53
Ben Jones - 42
Results Table:
Lee Walker
3
Ben Jones
1

Lee Walker



3
Andy Rogers
3

Andy Rogers



2
Gareth Allen
2

Lee Walker



2

Jamie Clarke



Alex Taubman
0

Jamie Clarke



3
David John
3

David John



0
Jamie Clarke
3

Jamie Clarke



3
Rhydian Richards
1