Walker wins Welsh Men's Event Three beating Duane Jones 3-2 in the Final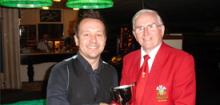 In the Final, Lee Walker and Duane Jones got off to a slowstart with both players playing good safety. Duane managed a break of 46 to take frame one.
More safety prevailed in frame two after a re-wrack. Duane went further ahead after clearing the colours 2-0.
Frame three saw an early break of 49 by Duane with a chance of clinching the match, but missed a vital black to allow Lee a chance to come back. But Lee broke down on 32. He later cleared the colours to stay in contention with the score at 1-2.
In frame four with a break of 60 was enough for Lee to drawlevel 2-2.
A further re-wrack evolved in the final frame. Lee took an early lead with a break of 67. It was enough to clinch the frame and match 3-2.
Results Table:
Lee Walker
w/o
Craig Price
scr

Lee Walker



3
Alex Tauban
3

Alex Tauban



0
Mark Stoneman
1

Lee Walker



3

Lee Walker



Duane Jones
3

Duane Jones



2
David Donovan
1

Duane Jones



3
Gareth Allen
1

Rhydian Richards



1
Rhydian Richards
3