Annual Coaching Foundation Handicap 2011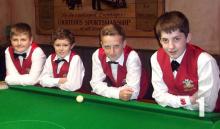 Scratch player Tom Rees (Swansea) won this event for the second time by defeating Llanelli's Matthew Humphries in the final.
A superb first round match with Suraj Singh (Cardiff) eventually went Tom's way before he was given another fright by the promising Jack Martin (Swansea). The very dangerous Cory Rees was Tom's next opponent. Both players went for all out attack as they do. This time Tom came out on top, a 2-0 win putting him into the final.
Matthew Humphries reached the final after a very close semi final win over the improving Sam Newton (Caerphilly) Sam having beaten last year's winner Dominic Johns in round one.
In the final Toms greater experience was the difference between the two. Matthew looked very capable at times but it was Tom who rapped up the match 3-1 with the aid of an excellent 64 break in the 4th frame.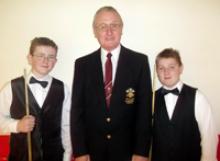 The Plate competition was won by Llewys Graham (Abergavenny) who showed great promise in beating the consistent Lewis Burke (Bridgend) 2 -0 in the final.
A mention must go to Tom Davies who is on holiday in Dorset, he travelled all the way back to play in the plate. Daniel Roberts also had a long trip down from Anglesey to play in the plate. Well done boys that's real dedication for you.
Overall this was an excellent tournament with some very promising young player's on show.
Competition for Welsh Team places at Under 14's and 16s level is sure to be fierce this coming season.
A special thank you to Dai Luce of Snooker World Ammanford for the use of the facilities and for the superb buffet.
Results Table:
Matthew Humphries
2
Zack Jones
0
Matthew Humphries
2
Sam Newton
2
Sam Newton
1
Nathan Humphries
1
Matthew Humphries
1
Tom Rees
Cory Rees
2
Tom Rees
3
Macauley Cole
0
Cory Rees
0
Tom Rees
2
Tom Rees
2
Jack Martin
1