Tyler Rees wins first Welsh Under 19's Event One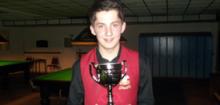 Tyler Rees continued his run of good form by winning this first under 19s event of the season.
He reached the final after defeating Suraj Singh in a very close match which could have gone either way before Tyler got in first in the decider to make a decisive 48 break which took him into the final.
Ryan Rowland reached the final by overcoming Jack Martin in their semi final after Jack had put out the much more experienced Callum Lloyd at the quarter final stage.
Ryan was unlucky not to make a century in his quarter final against junior international Macauley Cole. He finished just the wrong side of the blue and tried to force the cue ball around the table only to see the blue hit the back of the pocket and jump back on the table. Still a superb 93 break which was the highest of the day.
The final itself failed to live up to expectations. Ryan was unable to maintain the good form he had shown earlier, partly due to the long wait he had after finishing his semi final. Tyler showed what a good all round player he is developing into by running out a comfortable winner.
Results Table:
Tyler Rees

3
Llewys Graham

0
Tyler Rees

3
Suraj Singh

3

Suraj Singh



2
Jordan Bowd

2
Tyler Rees

3
Tyler Rees

Ryan Rowlands

3

Ryan Rowlands



0
Macauley Cole

2

Ryan Rowlands



3
Jack Martin

3

Jack Martin



1
Callum Lloyd

2