Under 14's International Snooker Challenge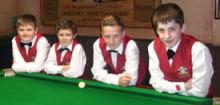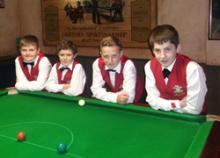 Held in the superb facilities of the Northern Snooker Centre in Leeds this inaugural event was a great success, hugely enjoyed by players, parents and supporters from the three countries involved.
In keeping with the recent Olympic theme, gold silver and bronze medals were up for grabs.
Despite fielding a very young inexperienced team Wales finished with silver medals. After losing to a strong English team 12–4 the Welsh lads showed great pride and passion to defeat Scotland 10–6.
Result
England (Gold)
Wales (Silver)
Scotland (Bronze)
All players also received certificates.
Team manager John Dobson said I was really proud of our lads. They all played and conducted themselves impeccably and the experience they have gained will stand them in good stead for the future.
Tyler Rees (Llanelli)
Jackson Page ( Ebbw Vale)
Jack Martin (Swansea)
Callum Matthews (Cross keys)
Delegates from all three countries held discussions about making this an annual event on the snooker calendar. Everyone agreed that with entries falling for junior tournaments in all countries, events such as this are essential if interest and incentive in junior snooker was to by maintained and improved upon.
All delegates were hopeful that this event would be repeated. Possibly annually, held at the Northern Snooker Centre, Leeds, who have indicated they would be pleased to host and sponsor the event. Discussions will be ongoing.