Celtic Challenge 2011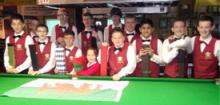 This eagerly awaited annual event was again a great success. Wales retained the Celtic challenge trophy. The first time for many years that we have won on Irish soil.
The combined score from both the Under 14's match and the Under 16's match decided the winners.
Our Under 14's were particularly impressive, with Tyler Rees (Llanelli) winning his five matches (the only undefeated player in the event).
Scott Rolfe came into the team on very short notice and had no preparation time at all, but played like a seasoned veteran winning four out of five matches. Rhydian Stringer and Lewis Samuel also did extremely well to win four out of five.
The slightly more experienced Welsh Under 16s team were up against a strong Irish side but battled away in every session to keep the scores close. Cardiffs Travis Furnish showing great big match temperament (gained from his success as a pool player) was the star of the team (both on and off the table). He won four out of five matches making a string of 40 plus breaks. Rhys Thomas and Suraj Singh also did well to win three out of five matches. Suraj making several good breaks incuding 45 and 66.
Welsh Under 14's Team
Tyler Rees (Llanelli)
RhydianStringer (Barry)
Lewis Samuel (Pontycymmer)
Tom Davies (Swansea)
Scott Rolfe (Llanelli)
Alfie Davies (Barry)
Welsh Under 16's Team
Travis Furnish (Cardiff)
Macauley Cole (Caerphilly)
Rhys Thomas (Caerphilly)
Ryan Rowlands (Barry)
Ethan Chichester (Cardiff)
Alfie Davies (Barry)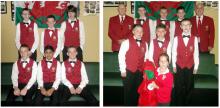 John Dobson said for such a young inexperienced team to do so well in an international competition was a tremendous achievement, and was sure to stand these young players in good stead for the future. To go to Ireland and win was something special and thoroughly deserved the celebrations that went on well into the early hours of Sunday morning.
Over 50 players and parents made the trip and everyone said what an enjoyable weekend it was. Apart from the snooker, perhaps the highlight of the trip was Pat Chichester's comedy rendition of Danny Kays "the jester" which he performed standing on the tables in the bar of the Carlton hotel. He had everyone in stitches including the staff.
A very special thank you to Alice Samuel who looked after Alwyn (our mascott) so well.