Wells Crowned Euro Champion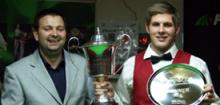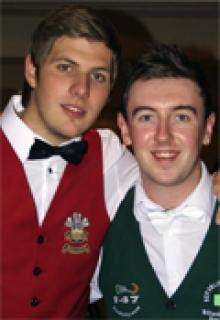 Daniel Wells (Neath) confirmed he is the leading amateur snooker player in Europe this year when he won the 2011 European Championship in Sofia, Bulgaria.
Wells won a tight, high quality final against Ireland's Vincent Muldoon by seven frames to four.
After losing to England's number one player Martin O'Donnell in their group match Wells got better and better with very convincing five frames to one wins over former European Champion Alex Borg (Malta) and English international Adam Duffy.
In the semi-final Wells raced to a five frames to one lead over international team mate Lee Walker (Newbridge) before Walker fired in breaks of 72, 57 and 46 to reduce the deficit to a single frame.
Wells clinched his place in the final with the help of a break of 47 in the tenth frame.
Wells is thrilled to add this individual title to the European Team title he helped to win for Wales in Malta earlier this year.
He now rejoins the professional circuit which starts next week at Sheffield with the first PTC event of the new season.
Results Table:
Anthony Krysa

3
Peter Roscoe

2
Anthony Krysa
3
Rhydian Richards

3
Rhydian Richards
2
Alan Morgan

0
Anthony Krysa
2
Daniel Wells
Elfed Evans

2
Daniel Wells
3
Daniel Wells

3
Daniel Wells
2
Richard King

0
Lee Walker
3
Lee Walker

3