Wales are Home International Champions 2011
Wales' top seniors and juniors are crowned home international champions 2011 after winning the prestigious event at Pontins, Prestatyn, N.Wales. Welsh senior team manager, Gordon Pantall said, 'this is a great day for welsh snooker.
The 7 man senior team got off to a disappointing start losing their 1st match to Scotland 10-8. But the defeat only seemed to spur welsh efforts on and the top welsh amateurs came together to pull off convincing wins against N.Ireland 10-3, Republic of Ireland 10-5 which set up a final showdown with England for the championship. The senior team held their nerve and passionately stormed through the match beating the tournament favourites 10-4 in the final. Welsh team captain Lee Walker commented, 'I am so proud of the lads. This was a real team effort and the spirit in the camp was awesome. It just felt right this year.'
The welsh senior team will now add the home international crown to their previous European crown which they won out in Malta earlier this April.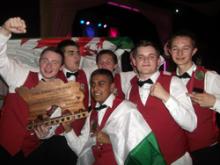 The 7 man team Under 19's championship was just as enthralling. With the absence of N. Ireland it meant that all teams had to play each other twice. Wales had convincing wins over republic of Ireland 10-2 and 10-2 and a fantastic win against tournament tipped favourites Scotland 10-8 and 10-3. However, after a disappointing loss to England in the 1st leg 10-5 it meant that the young cueists had to draw or beat England in the second leg to lift the crown, because Scotland had beaten England in a previous match. Spurred on by the senior's success the youngsters came together passionately, showing proud welsh grit and fought hard to force a draw, 9-9, and lift the championship on point difference.
This is the 1st time Wales have won the junior u19 championships. Welsh junior team manager John Dobson said, 'the boys thoroughly deserved their success. Some tough decisions had to be made along the way but every team member played a vital part in the victory. Im really proud of them all, we were by far the deserving champions.'