Robert Harrhy Fund Raising Event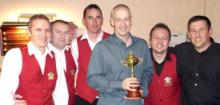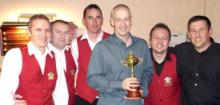 A superb evening of snooker was enjoyed by a large crowd at Tredegar cons club in Newport last Saturday. Organised as a fund raising event for former Welsh international Robert Harrhy the evening was a great success with raffles prizes and auction items raising a substantial amount of money, which is testament to the high regard Robert is held in by all who know him.
The match itself, between Welsh inter town champions Pockets S. C. Newport (Roberts own club) and a Welsh international select team was played in a wonderful fun and friendly atmosphere with plenty of banter going on. This made a refreshing change from the usual pressure and tenseness of tournament play. The player's however still produced some tremendous snooker. Highlight of the evening came when former professional and Welsh international Paul Davies (now steward of Tredegar cons club) produced a fabulous break of 134 missing an easy final pink when a maximum 147 looked a certainty.
Results
Wales Select v Pockets, Newport
Gavin Lewis 2-0 Darren Thompson
David John 0-2 David Hard
David Mills 2-0 Paul Howells
Duane Jones 1-1 Alun Squire
Lee Walker 1-1 Mark Stoneman
Paul Davies 2-1 John Payne
Breaks
Paul Davis 134
Gavin Lewis 78
David Hard 57
Alun Squire 53
Robert Harrhy presented the trophy (named "The Robert Harrhy Cup") kindly donated by Darren Morgan. He thanked Darren for providing the cup and the Welsh association for making a generous donation to the fund. He also presented John Dobson with a memento as thanks for his efforts in organising the event, which it is hoped ,will become an annual addition to the calendar.
Many thanks to everyone who turned up to support this very worthy cause. Thanks to all who donated raffle prizes and auction items and to Alun Squire who conducted the auction with great success.
Many thanks also to Tredegar Cons. Club for allowing us the use of their superb facilities and for providing the excellent hot buffet which was devoured in record time by the player's and spectators.