Celtic Challenge 2012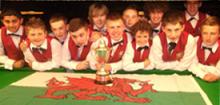 An excellent days snooker at Terry Griffiths matchroom snooker club in Llanelli saw Wales under 14s and under 16s snooker teams overcome their counterparts from the Rep. Ireland thus retaining the Celtic Challenge trophy for the 5th year in succession.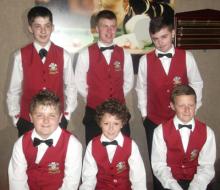 Ireland won the first session and looked to have a very capable squad of players, however the very young, inexperienced Welsh under 14s team pulled themselves back into contention before the half time lunch interval. After lunch the Welsh lads really put the pressure on led by some excellent play from Llanelli's Tyler Rees who won 5 out of his 6 matches throughout the day.
Jordan Bowd, Jack Martin, Jackson Page and Callum Matthews all making their first international appearances played an important part in the Welsh win, backed up by the slightly more experienced Tom Davies who also won 5 of his 6 matches.
Wales Under 14's Team
Tyler Rees (Llanelli)
Jack Martin (Swansea)
Jackson Page (Ebbw Vale)
Callum Matthews (Cross Keys)
Jordan Bowd (Abertillery)
Tom Davies (Swansea)
Our Under 16's team, despite a shaky start, won all 3 sessions after the lunch break to convincingly beat the Irish under 16s.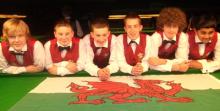 Travis Furnish of Cardiff led the Welsh assault, after losing 2-1 in his first match he then won his remaining 5 matches all by a 3-0 scoreline. Lewis Samuel, Ryan Rowland and Rhydian Stringer all won 4 out of 6 matches.
The Irish under 16s were a tough experienced side at this level so for our boys to come from behind and finally win convincingly was a superb result.
Travis Furnish (Cardiff)
Suraj Singh (Cardiff)
Ieuan Davies (Swansea)
Lewis Samuel (Pontycymmer)
Ryan Rowlands (Barry)
Rhydian Stringer (Barry)
Overall result, one point per frame won = Wales 130 Rep Ireland 86
Welsh team manager John Dobson said to win five time in succession against the republic of Ireland is a tremendous achievement as they are always very strong. Our youngsters played with determination and passion, exactly the attributes we expect from players representing Wales.
Well done to every one of you. The under 16s can now go to the home international championships in September with a great degree of confidence.