Jackson Page wins his first Welsh Event - Under 14's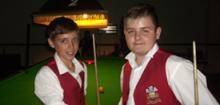 2nd seed Jackson Page of Ebbw Vale won this first Under 14's event of the season beating Barry's no.1 seed Alfie Davies in the final.
Alfie had no problems in reaching the final, recording 2-0 wins at the quarter and semi final stage. Jackson had a much tougher route, he found himself 1-0 down against the promising new comer Lewis Sinclair and again against Junior International team-mate Callum Matthews. Both times he showed character, determination and spirit to narrowly get through 2-1.
The final was an excellent match with both players potting extremely well. However, Jackson proved to be slightly more composed at crucial times, running out a 3-0 winner for his first Welsh ranking event success.
Results Table:
Alfie Davies

2
Liam Davies

0

Alfie Davies



2
Ryan Bowgen

2

Ryan Bowgen



0
Elliot Burgess

0

Alfie Davies



0

Jackson Page



Callum Matthews

2

Jackson Page



3
Bradley Ferguson

1

Callum Matthews



1
Jackson Page

2

Jackson Page



2
Lewis Sinclair

1