Welsh 6 Reds Championship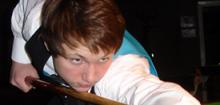 Sixteen years old Tom Rees (Swansea) beat defending champion Gareth Allen (N. Wales) by four frames to one to win the WBSA Welsh 6 Reds Championship at Ammanford Snooker World.
In this event the emphasis is firmly on potting and this is where Rees excelled.
Dale Lawrence (Swansea) and Dale Hughes (Port Talbot) both had a good tournament with wins over former Welsh Internationals John Terry and Stephen Ellis to get to the semi-finals.
Results Table:
Tom Rees
3
Calvin Howells
1
Tom Rees
4
Dale Lawrence
3
Dale Lawrence
2
John Terry
1
Tom Rees
4
Tom Rees
Gareth Allen
3
Gareth Allen
2
Dean Thomas
1
Gareth Allen
4
Dale Hughes
3
Dale Hughes
1
Stephen Ellis
2