Jack Carney Memorial Trophy Tournament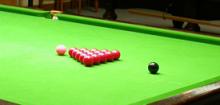 In memory of our great friend and colleague who gave so much to Welsh Snooker Jack Carney Memorial Trophy.
Prize Fund: £500.00 (Subject to entries)
The qualifying date is Saturday 14th May @ 10.30am. Finals will be played on the Saturday 21st May
Closing date: Saturday 7th May 2011
To enter this Tournament click to download the Entry Form.
Results Table:
Anthony Krysa

3
Peter Roscoe

2
Anthony Krysa
3
Rhydian Richards

3
Rhydian Richards
2
Alan Morgan

0
Anthony Krysa
2
Daniel Wells
Elfed Evans

2
Daniel Wells
3
Daniel Wells

3
Daniel Wells
2
Richard King

0
Lee Walker
3
Lee Walker

3