Walker wins Men's Event One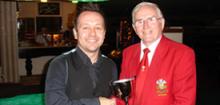 The Finals of the Mens First Ranking Event of 2013 were of a very high standard at Snooker World Ammanford this afternoon, as demonstrated with the high breaks throughout the tournament.
Ben Jones made a match winning break of 96 in the last frame of his quarter final match with David John with a 3-2 win.
Then Jones came up against an on fire Kishan Hirani. With breaks of 74-83-48 put him out at the Semi Final stage.
Hirani had a tight Quarter Final with Tom Rees (71-38), but he edged ahead with breaks of 90 - 58 for a 3-2 win.
Lee Walker's match with Rhydian Richards, and the Duane Jones - Alex Taubman match were one sided affairs, with Walker and Jones both going through to the Semi's 3-0.
The Walker and Jones Semi was a tense and high scoring match with breaks of 75-61 from Jones and Walker showing his best form and experience as an ex. Pro. with top draw safety play, returning breaks of 41-67 to go into the final 3-1.
The Final was a closely contested match with each break resulting in frame wins. At 2-2 it was down to the wire. The Final frame was tense. Walker seemed to up his game with some outstanding safety play and keeping Hirani on the Bulk cushion went out a well deserved winner at 3-2.
Results Table:
Tom Rees
2
Kishan Hirani
3

Kishan Hirani



3
David John
2

Ben Jones



1
Ben Jones
3

Kishan Hirani



2

Lee Walker



Lee Walker
3

Lee Walker



3
Rhydian Richards
0

Lee Walker



3
Alex Taubman
0

Duane Jones



0
Duane Jones
3