Under 14's Championship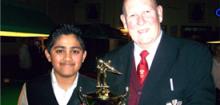 Suraj Singh (Cardiff) won this event to become Welsh Under 14's Champion. This was a well deserved success for Suraj who has won three out of the four ranking events at this level this season. He reached the final after an excellent semi final with Lewis Samuel (Pontycymmer)
Lewis had the first shot at a tricky black in the deciding frame only to wobble it, and leave it on the pocket for Suraj to gratefully take for the match.
Ten years old Alfie Davies (Barry) showed his tremendous potential by coming through the bottom half of the draw, beating No#2 seed Tyler Rees in round 2, before potting his way into the final with a fine win over Brandon leadbetter.
The Final
The final was a potting dual, maybe young Alfie went for a few to many against a more experienced opponent. The first two frames went to Suraj on the black before he won the third more decisively for the match and title of Welsh Under 14's Champion.
John Dobson said this was the most nerve racking and exciting climax to a tournament he could remember as it was so close at the top of the ranking list. Suraj Sing had already qualified for the Welsh Team but if Alfie won he would finish in the top six. A crowd of players still incontention and their parents waited in suspense while officials frantically collated points. After the presentation of trophies the suspense was finally lifted as the Welsh Under 14's team to face Rep. Ireland at the Celtic Challenge was announced. Congatulations to the following players who made the team.
Suraj Singh (Cardiff) 1680 points
Rhydian Stringer (Barry) 1110
Tyler Rees (Llanelli) 1080
Lewis Samuel (Pontycymmer) 940
Tom Davies (Swansea) 930
Brandon Leadbetter (Cross Keys) 920
The Plate competition was won by Lewys Graham (Cross keys) who beat Caerphilly's Zack Jones 2-1 in a very close final.
Results Table:
Suraj Singh
2
Tom Davies
0
Suraj Singh
2
Lewis Samuel
2
Lewis Samuel
1
Lewis Burke
1
Suraj Singh
3
Suraj Singh
Brandon Leadbetter
2
Alfie Davies
0
Rhydian Stringer
0
Brandon Leadbetter
0
Alfie Davies

2
Alfie Davies
2
Elliot Thomas

0