Welsh Over 40's Event Five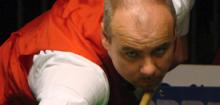 Darren Morgan qualified to represent Wales at the European Championships in Bulgaria later this year when he won the latest WBSA Masters (over 40s) event at Trecenydd Snooker Centre.
Gareth Perry had another good tournament with wins over three Welsh Internationals but lost by three frames to nil in the final.
David Hooper is currently second in the rankings but there are only sixty points separating him and his four nearest rivals in a close race for the number two spot.
Bob Watkins again made the semi-final and secured his place in the Welsh Team for the Home Internationals at Prestatyn in September.
Results Table:
R Watkins

3
John Terry

2
R Watkins
1
Darren Morgan

3
Darren Morgan
3
B Phillips

1
Darren Morgan
3
Darren Morgan
David Hooper

3
Gareth Perry
0
Wayne Morgan

0
David Hooper
1
Gareth Perry

3
Gareth Perry
3
B Sage

1