Welsh Masters Event 2 - Snooker World Ammanford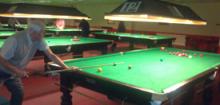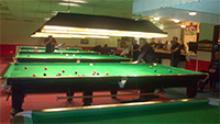 There was a good turnout of 31 players at Snooker World in Ammanford for the 2nd Welsh Masters event, including a number of new players from North and South Wales. There were good performances from Jon Perring, Bob Watkins and Andrew Issit taking Darren Morgan to a deciding frame for the match, Ian Sargeant with his 3-2 win over Elfed Evans, plus, Gavin Lewis with his 3-0 win over Paul Davies.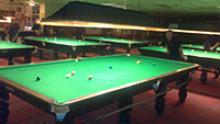 Solid throughout the day were the finalists Neil Tomkins and Darren Morgan. Darrens opening 45 break in frame 4 provided the base to close out the match and win 3-1. As usual, the playing conditions at Snooker World were excellent and our thanks go to Dai Luce for hosting the event.
Highest Breaks
Neil Tomkins 78
Bob Watkins 64
Results Table:
Ian Sargeant

3

Bob Watkins

1
Ian Sargeant
1
Jon Perring
1
Neil Tomkins
3
Neil Tomkins
3

Neil Tomkins

1
Darren Morgan
Andrew Issit
2
Darren Morgan
3
Darren Morgan
3
Darren Morgan
3
Gavin Lewis
3
Gavin Lewis
1
Paul Davies
0