Welsh Over 40's Event Six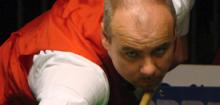 Darren Morgan made it a clean sweep of the season's Masters (over 40s) when he won the final event at Pockets Snooker Centre.
Byron Phillips (Bridgend) had his best event to date, beating Dean Thomas, Bob Watkins and John Terry before running out of steam and losing three nil in the final.
The Welsh Masters Team for the Home Internationals at Prestatyn in September (9th-16th) will be Darren Morgan, David Hooper, John Terry, Robert Watkins, Byron Sage and Gareth Perry.
Results Table:
Darren Thompson

3
Ian Sargeant

1
Darren Thompson
0
Darren Morgan

3
Darren Morgan
3
Wayne Morgan

0
Darren Morgan
3
Darren Morgan
Byron Phillips

3
Byron Phillips
0
R Watkins

2
Byron Phillips
3
John Terry

3
John Terry
0
David Hooper

2