Welsh Over 40's Event Four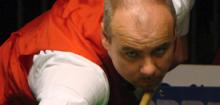 Darren Morgan made it a clean sweep so far this season in Welsh Masters (Over 40s) events when he beat David Hooper in the final of Event 4. The absence of his main rival, World Masters champion Phil Williams has made things decidedly easier for Morgan but he continues to produce good performances when required, none better than against Byron Sage in the semi-final. Sage was on a maximum when he broke down on 105 but Morgan replied with two centuries of his own to win 3-1.
Gareth Perry had his best tournament of the season but lost 3-1 to Hooper in the other semi-final.
With Morgan deciding not to travel to Malta, Hooper and Sage will represent Wales (over 40s) at the European Team Championships in Malta at the end of March.
Daniel Wells, Anthony Krysa and Lee Walker will be the Men's team attempting to win this event for the third year in succession for Wales.
Wales has four players entered in the European under 21s Championships which will also be played in Malta at the same time. Cardiff players Kishan Hirani and Edward Topham will join Aberdare's Daniel Norris and Duane Jones from Mountain Ash.
Results Table:
M Bromfield

0
David Hooper

3
David Hooper
3
John Terry

1
Gareth Perry
1
Gareth Perry

3
David Hooper
1
Darren Morgan
Byron Sage

3
Darren Morgan
3
John Mills

1
Byron Sage
1
Darren Morgan

3
Darren Morgan
3
Dean Morgan

1