Welsh Senior Event Four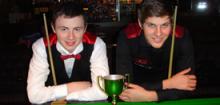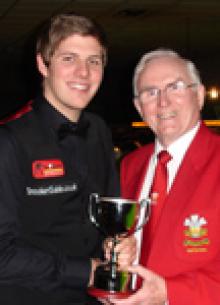 Daniel Wells won his third ranking event of the season when he narrowly defeated Duane Jones in the final of Event 4.
It was a clash of two of the most consistent players of the season with Daniel dominating the seniors while Duane is top of the Under 21#s rankings.
It was a tense final with the first two frames shared before Duane easily won the third. Daniel's experience on the Main Tour showed as he fought back and won the next two frames for victory.
Both Daniel and Duane are recipients of Elite Cymru sponsorship from the Welsh Sports Council and former students of the WBSA Coaching Foundation.
The superb conditions at Terry Griffiths's Matchroom at Lanelli brought out the best i nthe quarter finalists with a couple of centuries amongst the many high breaks made on the day.
There were some close matches including Rhydian Richards's final black ball win overfellow Welsh international Pete Roscoe.
The Event 4 results mean that Daniel Wells, Lee Walker and Anthony Krysa will be the senior team representing Wales at next month's European Team Championships in Malta.
Wales willsend four players, Duane Jones (MountainAsh), Daniel Norris (Aberdare), Edward Topham and Kishan Hirani (both Cardiff)to the European Under 21s Championship at the same venue.
Break Board
Duane Jones 101cl, 84, 62, 51, 36
Anthony Krysa 84, 64, 32
Daniel Wells 63, 49, 37
Rhydian Richards 61
Results Table:
Duane Jones

3
Gareth Edwards

0
Duane Jones
3
Rhydian Richards

3
Rhydian Richards
1
Peter Roscoe

2
Duane Jones
2
Daniel Wells
Anthony Krysa
3
Daniel Wells
3
Andrew Rosser

1
Anthony Krysa
2
Daniel Wells
3
Daniel Wells
3
Stephen Ellis

0