Welsh Under 21's Event Three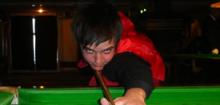 Four players, Jamie Tudor, Daniel Norris, Duane Jones and Kristian Phelps qualified through the group stages at Ammanford snooker club,Swansea.
Four players, Kishan Hirani, Luke Haines, Edward Topham and Matthew Laver came through their groups at Trecenydd snooker club, Caerphilly.
Finals day (last 8)was held at Rileys, Newport, and produced some fine matches.
A very close match between junior internationals Kristian Phelps and Edward Topham saw Topham just get over the line 3-2. Another excellent quarter final match resulted in a win for Daniel Norris over Matthew Laver. Matthew returned to competitive snooker this season and is beginning to show the kind of form that made him a junior international at Under 14, 16's and 19's level.
Daniel had raced into a 2-0 lead with breaks of 60 and 55 only to see Matthew storm back into contention with 81, and 60. In the decider Daniel was in first with a 30 plus break followed shortly after with another 30 plus which put him through to the semi final where he overcame another junior international, Kishan Hirani.
In the other half of the draw No.1 seed Duane Jones reached the final with 3-0 wins over Luke Haines and Edward Topham.
The final was a superb match. Strong favourite Duane Jones started with a 72 break to take the first frame. Daniel replied with 54 for frame two. A some what scrappier third frame went to Duane only for Daniel to level at 2-2 with the aid of a 63 break.
Duane was off like a train in the deciding 5th frame. A break of 52 helped him into a 61-0 lead. A missed attempt at a longred left a chance for Daniel who held himself together to compile a 43 break which put him right back in the frame. After an exchange of safety play it was eventually Daniel who potted an excellent green before taking the colours he needed for a thoroughly deserved win and the opportunity to represent Wales at the forthcoming European Under 21's Championship in Malta.
Duane Jones is also invited as Wales No#1 ranked player along with No#2 Edward Topham. Kishan Hirani is named as reserve.
Break Board
Jamie Tudor 109
Mathew Laver 81, 60
Kishan Hirani 71
Dominic Johns 69
Daniel Norris 63, 60, 55, 54 43
Duane Jones 72, 52, 49
Results Table:
Edward Topham
3
Kristian Phelps
2
Edward Topham
0

Duane Jones
3
Duane Jones
3

Luke Haines

0
Duane Jones
2
Daniel Norris
Kishan Hirani

3



Daniel Norris

3
Jamie Tudor

1

Kishan Hirani
2

Daniel Norris
3

Daniel Norris
3

Mathew Laver

2