Under 14's Event Three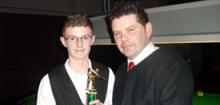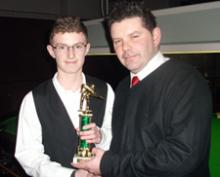 Rhydian Stringer (Barry) won this event, his first win on the Welsh junior tour. He dropped only one frame throughout the tournament. This was the first frame of the final when Nathan Humphries (Llanelli) potted everything in sight. Unfortunately, Nathan could not keep it up and Rhydian, showing greater composure, took the next three frames for a fine victory.
The top two seeds Suraj Singh (Cardiff) and Tyler Rees (Llanelli) went out at the semi final and second round stages respectively but retain their 1 & 2 placings on the ranking list.
With the top six player's at the end of the season selected to represent Wales against the Republic of Ireland in the annual "Celtic Challenge" the final Under 14s event on March 20th should be very interesting. Points and a half are available, and a dozen or more players are still well capable of securing a Welsh team place.
The Plate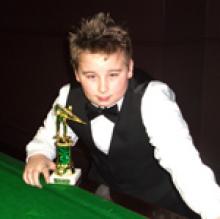 The Plate competition was won by Lewis Samuel who defeated fellow Bridgend boy Callum Richards 2-0 in the final.
Results Table:
Suraj Singh
2
Tom Davies
0
Suraj Singh
0
Rhydian Stringer
2
Rhydian Stringer
2
Elliot Thomas

0
Rhydian Stringer
3
Rhydian Stringer
Scott Rolfe
2
Nathan Humphries
1
Llewys Graham
1
Scott Rolfe
1
Nathan Humphries
2
Nathan Humphries
2
Brandon Leadbetter
1