Welsh Under 19's Event Three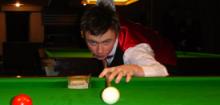 Duane Jones (Mountain Ash) started the new year as he finished the last, in winning form. Several players failed to turn up for this event (probably still recovering from the Christmas and new year celebrations).
This gave Duane a some what easy path through to the semi final where he overcame fellow junior international Kishan Hirani. (Cardiff).
Jamie Clarke (Llanelli) had a tough quarter final win over Tom Rees (Swansea) before defeating thein form Edward Topham (Cardiff) at the semi final stage.
In the final Duane again produced a very steady all round performance to record his second tournament win of the season at Under 19's level. A result that sees him retail his top place on the ranking list.
His second successive under 19s final moves Jamie Clarke up to joint second with Edward Topham.
Results Table:
Duane Jones

2
Dominic Johns
0
Duane Jones
2
Kishan Hirani
2
Kishan Hirani
0
Callum Lloyd

0
Duane Jones
3
Duane Jones
Jamie Clarke
2
Jamie Clarke
1
Tom Rees

1
Jamie Clarke
2
Edward Topham
2
Edward Topham
0
Ryan Rowlands
1