Duane Jones wins Welsh Under 19's Championship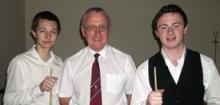 Duane Jones won this last Welsh Under 19's ranking event of the season, beating fellow junior international Callum Lloyd in a close final in which neither player could find their best form. In the 5th and final frame with the scores level, Callum found himself in a foul and miss situation from which he conceded 20 points. This was just enough to see Duane across the line for his first Welsh Under 19's win of the season, and for the title of Welsh Under 19's Champion.
Duane reached the final by defeating international Tom Rees in the semi final while Callum beat international team mate Edward Topham in their semi final.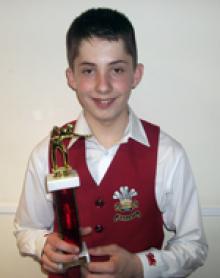 The plate competition was won by who overcame Ryan Rowland 2-0 in the final.
Results Table:
Callum Lloyd

W/O
Jamie Clarke

0
Callum Lloyd
2
Edward Topham

2
Edward Topham
0
Sam Thomas

0
Callum Lloyd
2
Duane Jones
Duane Jones
2
Duane Jones
3
Daniel Bridle

0
Duane Jones
2
Tom Rees

2
Tom Rees

0
Macauley Cole

0