Tom Rees wins Welsh Under 19's Event 3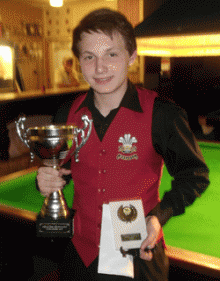 This event was hugely disappointing because of the number of players who failed to turn up. Probably the combination of mothers day and celebrating Wales grand slam victory had a lot to do with it. However with only the under 19s championship left (May 27th) the door is wide open with several players in with a good chance of finishing in the top six thus gaining a place in the Welsh team for the home internationals in September.
Tom Rees was one who did turn up, and he showed his international class by winning the event following an excellent semi final win over top seeded Jamie Clarke who had won both event 1 and event 2.
Tyler Rees, one of our most promising junior players reached his first Under 19's final by beating the consistent Edward Topham in the other semi final.
Tyler also put up a very good show in the final but the more experienced Tom Rees just had too much for him on this occasion.
The plate competition was won by Matthew Humphries who defeated his brother Nathan 2 – 1 in a close fought final.
Results Table:
Jamie Clarke

2
Joshua Jordan

0
Jamie Clarke
1
Tom Rees

2
Tom Rees
2
Suraj Singh
0
Tom Rees
3
Tom Rees
Tyler Rees

2
Tyler Rees
1
Dale Hughes

0
Tyler Rees
2
Edward Topham

2
Edward Topham
1
Ryan Rowlands

0