Welsh Under 14s Event Four - Results
There were 14 entries on the day, which matched the most entries in the Under 14 category for the season. There were no major surprises in the results with the Number 1 Seed Rhys Morgans playing the Number 2 Seed Ryan Bowgen in the Final. A familiar scene all season with Ryan just falling short of a tournament win due to Rhys's consistancy. Rhys becoming Welsh Under 14 Champion to go alongside his Number One ranking for the season.
The top Six Ranked players after the Season end have all qualified to represent Wales in the Celtic Challenge against Ireland this summer. They are in oreder of rank:- 1. Rhys Morgans. 2. Ryan Bowgen. 3. Liam Davies. 4. Luke James. 5. Jacob Boyle. 6. Oscar vaughan. Congratulations to all and we are sure that you will do yourselves and Wales proud.
The Plate competition was, as always keenly fought out by the players who had lost their first matches in the Main Tournament. The Final between Harvey Rees and Olly Bridle saw each frame go down to the colurs, but Olly proved to be a bit more consistant on the day and came out a 2 frames to nil winner, which gave him his first Welsh Trophy. Well done to all players who took part.
Rhys Morgans is pictured below with his trophy.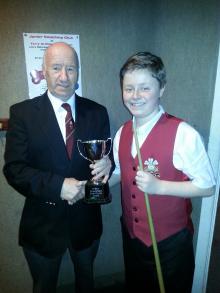 Plate winner Olly with his trophy