HIBSF Home Internationals 2016 - U16s and U21s Results Plus Billiards
What can we say but "The boys done good!"
Today, after a narrow defeat by England A, Wales U16s took the Home Internationals title as the Republic of Ireland managed to score enough frames to deny England in the last game.
With an 82 break in his final match, Dylan Emery tops the breaks and stats tables too, with Callum Matthews clinching second spot ahead of two very strong English players. Alfie Davies took 9th place and Bradley Ferguson 16th. All are achievements to be proud of given the strength of the field.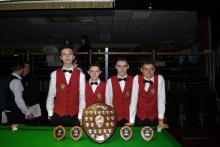 The Under 21s secured joint second place in their panel, tied wih the Republic of Ireland on both points, frames and a drawn head-to-head match. Tyler Rees came second in the rankings and at one stage was on for a max, missing the 12th black. Rhys Thomas had an excellent tournament, finishing 7th. Jackson Page 10th and Ryan Rowlands 20th.
For the first time in 10 years, Wales are represented in the Billiards panel. The team of Pater Stanyer, Alex Donne and Eddie Duggan are lying third after two matches, with a 2-1 defeat to England and a 3-0 win over Austria. Peter has won 2 from 2 and lies 6th whilst Eddie and Alex are both 1 from 2 and 9th & 11th respectively.