Under 16s Event Two - Results
A field of 16 entries on the day meant no preliminary rounds to be played as the Under 16s met up at Snooker World, Ammanford.
There were no shocks in the early rounds with all the top seeded players moving through the rounds without any scares. The standard all day was extremely high with lots of 50+ breaks in each of the rounds. Again worth noting was the dedication shown by the players making a longer journey to compete, with Tom Dorey edging out Ethan Rowbotham to get a win under his belt in his first U16 competition.
The 2 most consistent players were as usual Jackson Page and Dylan Emery who both reached the Final in good form. Today it was the turn of Dylan to take the top prize 3 frames to 1, due to making less mistakes than Jackson. Both players showing excellent form and there is nothing to chose between these two for the rest of the season. We look forward to many more finals like this one.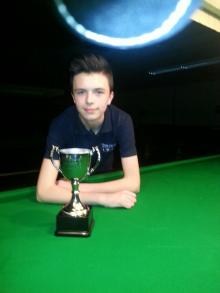 The plate competition was won by Ieuan Richards, who beat Harry Bond 2-0 in the final. Ieuan is pictured below with his trophy.