Singh wins Under 14's Event 3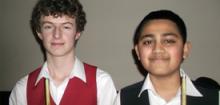 Suraj Singh won this event, his second of the season reaching the final after a very tough semi final battle with the promising Jackson Page.
Rhydian Stringer, sporting a new curly perm hairdo looked lovely ? as he finally overcame Tyler Rees who had beaten him in several recent events and was becoming a bit of a bogy. This time though it was all Rhydian as he reached the final with an impressive 2-0 win against the no#1 seed.
The final turned into a bit of a scrappy match with both players potting some good balls then missing relatively easy ones. However Suraj, slightly the more consistent, finally managed to get over the line 3-2. A win which puts him back to no. 1 on the ranking list.
With only one event left at this level, several players are still in contention for a top six spot and a place in the Welsh team to play Rep. Ireland later in the year.
Plate
The plate competition was won by Under 14s international Lewis Samuel who defeated the promising Daniel Lonegan 2-0 in the final.
Results Table:
Tyler Rees

2
Alfie Davies

0
Tyler Rees
0
Rhydian Stringer
2
Rhydian Stringer
2
Tom Davies
1
Rhydian Stringer
1
Suraj Singh
Jackson Page
2
Suraj Singh
3
Jordan Bowd
0
Jackson Page
1
Suraj Singh
2
Suraj Singh
2
Jack Martin
0