Phelps wins his first Men's Ranking Event!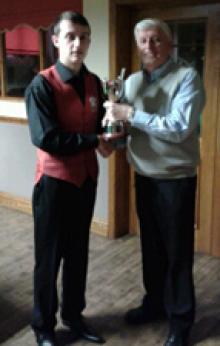 Kristian Phelps (Swansea) beat Rhydian Richards (Merthyr) in the final of WBSA Men's Event 2 at the Vetz Snooker Club, Pontycymmer.
Showing confidence and composure Kristian cleared the last three reds and colours up to the pink to win by three frames to two.
Despite tournament breaks of 85, 78, 69, 51 and gaining deciding frame wins over Jamie Clarke (Llanelli) and Alex Taubman (Wrexham) Rhydian was defeated in the final of a ranking event for the ninth time in his career.
In the quarter-final Phelps beat the experienced Alun Squire (Newport) by three frames to one before easing past Event One winner Duane Jones in the semi-final.
Taubman easily disposed of Jak Jones to reach his first ranking event semi-final.
Duane Jones remains at the top of the ranking list with 430 points closely followed by Phelps and Richards.
Highest Breaks
Rhydian Richards 42, 51, 69, 78, 85
Kristian Phelps 60
Results Table:
Alan Squire

1
Kristian Phelps

3
Kristian Phelps
3
Peter Roscoe

0
Duane Jones
0
Duane Jones

3
Kristian Phelps
3
Kristian Phelps
Alex Taubman

3
Rhydian Richards
2
Jak Jones

0
Alex Taubman
2
Rhydian Richards
3
Rhydian Richards
3
Jamie Clarke

2