IBSF 2017 - Morgan Regains World Masters Title
Whilst the Mens competition saw the Welsh contingent exit by the round of 32, the Masters fared somewhat better in the heat of Qatar.
Emyr Humphreys came from 3-1 down to force a deciding frame in his last 32 match with the number 5 seed Rafath Habib only to lose out to a timely 55 break by the Indian player. Elfed Evans faced old foe Aidan Owens from England in the semi finals, missing out on an all Welsh final as Aidan sealed that tie 5-2.
Darren Morgan had a scare in the last 32 against Cherag Ramakrishnan, Darren taking frames 6 and 7 to move on to the last 16. Solid performances followed, with only two frames dropped before the final with Aidan.
The final started well for Darren, 73-27 being a fair reflection of a relatively one sided frame. Frame 2 was a lot closer, with a 44 from Darren making it 63-30 and 2-0. Aidan edged frame 3 48-61 and another close frame followed, a 55 from Darren restoring his two frame cushion. Frame 5 was a belter, Aidan opened up a 29-0 lead before letting Darren in for a 112 break to lead 4-1 at the interval.
Aidan came back after the break with renewed vigour, 41-66 and 11-68 in frames 6 and 7 had the match back finely balanced at 4-3 in favour of the Welshman. However, with bit firmly between his teeth, Darren broke for the winning line, an 83 in frame 8 taking that frame to 0 and a 58 in the 9th bringing Darren the title of IBSF World Masters Champion once again, deservedly so.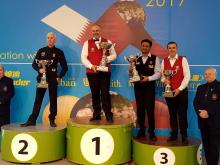 Above is the presentation podium, Darren in the middle on the top step, with Elfed in joint 3rd