Hirani wins Jack Carney Memorial Trophy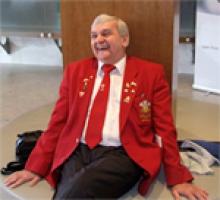 The 3rd Jack Carney memorial tournament resulted in a fine win for Cardiff's Kishan Hirani. Kishan reached the final after excellent wins over fellow junior international Dale Hughes and senior international Anthony Krysa.
Daniel Norris reached the final with wins over Sam Thomas and senior international Gavin Lewis. In the final Kishans all round game proved to strong for Daniel on this occasion as he ran out a convincing 3-0 winner.
All proceeds from this event goes to McMillan cancer relief.
Jacks Carney's grandsons Thomas and Rhys were in attendance to present the prizes in memory of Jack who is still very sadly missed by all in Welsh snooker.
Highest Breaks
Kishan Hirani 101, 68, 76, 48, 68
Gavin Lewis 58
Ben Jones 51
Anthony Krysa 68, 48, 51
Results Table:
Gavin Lewis
3
Byron Phillips
0
Gavin Lewis
2
Daniel Norris
3
Daniel Norris
3
Sam Thomas
2
Daniel Norris
0
Kishan Hirani
Anthony Krysa
3
Kishan Hirani
3
Rhydian Stringer
2
Anthony Krysa
1
Kishan Hirani
3
Kishan Hirani
3
Dale Hughes
0