Result - Under 18s Event 1
A dozen young players contested this first under 18s event of the season. Jackson page, the current welsh champion showed his class by winning the event producing a string of high breaks along the way.
He was given a bit of a fright in his first match against the up and coming Liam Davies who took the first frame. Jackson struck back by taking the next two, aided by a break of 119 in frame 2. Liam then missed a great opportunity to level at 2 – 2 before Jackson took the frame to win 3 – 1. He then reached the final with a 3 – 0 win over under 16 international Rhys Morgans.
In the bottom half of the draw the very dangerous Dylan Emery came through to the final without any problems.
The final started with Jackson compiling a break of 54 only for Dylan to take the frame with a 48.
Dylan also took the next to lead 2 – 0. However it was all Jackson from then on as he took the next 3 frames with a string of good breaks including 89, 51,and 49. to win the opening event of the season.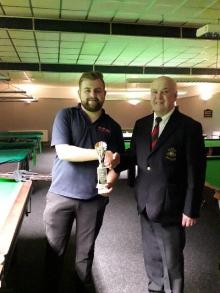 Results Table:
Last 16
Jacob Boyle

0

Liam Davies

3
ciaran paul

1

Bradley Tyson

3
Quarter-finals
Liam Davies

1

Jackson Page

3
Olly Bridle

1

Rhys Morgans

3
Ryan Davies

0

Dylan Emery

3
Bradley Tyson

3

Zac Cosker

0
Semi-finals
Jackson Page

3

Rhys Morgans

0
Dylan Emery

3

Bradley Tyson

0
Final
Jackson Page

3

Dylan Emery

2
Top Breaks
| Player | Break | Notes |
| --- | --- | --- |
| Jackson Page | 119 | vs, Liam Davies (Quarter Final) |
| Jackson Page | 89 | |
| Jackson Page | 65 | |
| Jackson Page | 54 | |
| Jackson Page | 54 | |
| Jackson Page | 51 | |
| Jackson Page | 49 | |