Mens Event 4 - Results
Mens Event 4 concluded at the weekend, with North Walian Gareth Edwards running out as winner on the day.
At the recent qualifying rounds there had been a few strong performances by several players. Most notable of these was Anthony Krysa, who despatched high flyers Andrew Pagett, Tyler Rees and Ben Jones to qualify at Snooker World, Ammanford, making the most of the excellently prepared tables with breaks of 103 and 107. The second qualifier from the West group was Gavin Lewis, who had a tough deciding frame with David Roberts. The East group played out at Redz, Cwmbran, where Mark Stonemans defeated #1 Jackson Page on his way to a qualifying spot, Dylan Emery and Alun Squire being the other qualifiers. Up North, Alex Taubman beat fellow postman Elfed Evans 3-1 and Robert Williams 3-0 to qualify. Matt Roberts needed the deciding frame to beat Daniel Williams to qualify and Gareth booked his place after beating Ross L Jones 3-1, following a bit of a scare in the previous round as the ever improving Elgan Hughes showed that he will be one to watch.
Finals day was held at Scala. Anthony Krysa was again on form, defeating Dylan Emery (3-1) and Alex Taubman (3-2) to reach the final. In the lower half, Gareth took a 2-0 lead over Matt Roberts before his tip came off. Matt pulled the match back to 2-2 after Garteth's repairs but once used to the tip again, Gareth took the tie. His semi final was against Gavin Lewis, 3-1 to Gareth being a fair reflection of how well Garteth was playing.
The final was not as one sided as the scoreline suggests, but Gareth was firing on all cylinders by this stage and ran out a 3-0 winner.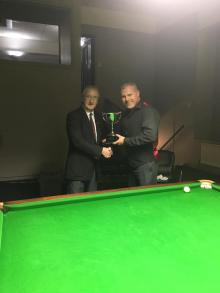 Results Table:
Quarter-finals
Dylan Emery

1

Anthony Krysa

3
Alex Taubman

3

Alun Squire

0
Mark Stoneman

1

Gavin Lewis

3
Matthew Roberts

2

Gareth Edwards

3
Semi-finals
Anthony Krysa

3

Alex Taubman

2
Gavin Lewis

1

Gareth Edwards

3
Final
Anthony Krysa

0

Gareth Edwards

3