Masters European Results
Event 5 had a slightly reduced entry of 22 players on the day. The standard of snooker overall was exremely high with a number of players compiling breaks of 50 and above.
In the top half of the draw, Alun Squire's route to the semi finals was a tough one, with neither Jason Tucker (3-2)nor Chris Rees (3-1) going down without a fight. Alun would face Tony Morgan, who also found his opponents (Don Newcombe 3-2, Byron Philips 3-1 and Wayne Morgan 3-1) tough going. Despite the arduous early rounds, this semi also went to the decider, with Alun taking the win.
The bottom half of the draw saw Gavin Lewis reach the semis with a 3-2 defeat of Alan Hurley and a 3-1 win over Simon Williams. His opponent would be Darren Morgan would be darren Morgan, who despatched Chris Thomas with breaks of 69 and 90, Rhydian Richards with a break of 53 and Darryl James with another 63 break, all matches 3-0.
The Semi Final stages saw Alun Squire win against Tony Morgan 3 frames to 2 and Darren Morgan win 3-0 against Gavin Lewis with a 60 and the days higherst break of 102..
In the Final Darren Morgan continued his relentless potting form to beat Alun Squire by 3 frames to nil, with another 50 break and a clearance of 90.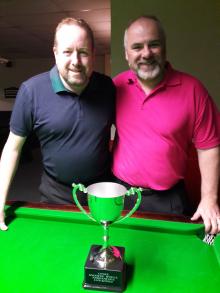 Results Table:
Last 32
Don Newcombe

2

Tony Morgan

3
Wayne Morgan

3

Dean Thomas

0
Jeff Denscombe

3

Keith Thomas

0
Simon Williams

3

chris garwood

1
Martin Dylan

0

Darryl James

3
Chris Thomas

0

Darren Morgan

3
Last 16
Alun Squire

3

Jason Tucker

2
Tony Morgan

3

Byron Phillips

1
Wayne Morgan

3

Jeff Denscombe

1
Alan Hurley

2

Gavin Lewis

3
Simon Williams

3

Ronnie Allen

2
Darryl James

3

Kelvin Hayman

0
Darren Morgan

3

Rhydian Richards

0
Quarter-finals
Tony Morgan

3

Wayne Morgan

1
Gavin Lewis

3

Simon Williams

1
Darryl James

0

Darren Morgan

3
Semi-finals
Alun Squire

3

Tony Morgan

2
Gavin Lewis

0

Darren Morgan

3
Final
Alun Squire

0

Darren Morgan

3
Top Breaks
| Player | Break | Notes |
| --- | --- | --- |
| Darren Morgan | 102 | |
| Darren Morgan | 96 | |
| Darren Morgan | 60 | |
| Alun Squire | 57 | |
| Alan Hurley | 57 | |
| Gavin Lewis | 57 | |
| Chris Rees | 51 | |
| Byron Phillips | 50 | |