Welsh Under 21's Event 1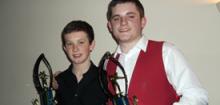 Travis Furnish is no respector of reputations. He proved this by carving his way through the elite of Welsh Junior Snooker to win this first Under 21's event of the season.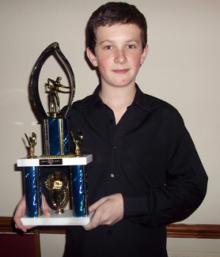 After overcoming fellow Under 16's international Dale Hughes in round one he disposed of newcomer, but very capable Dale Pope. He then displayed tremendous fighting spirit and will to win by coming from 2-0 down to defeat No.1 seed Duane Jones. His semi final against multi tournament winner, and much more experienced Jamie Clarke saw him produce some almost faultless snooker to reach the final with a superb 3–1 win.
Edward Topham the No.2 seed reached the final in a somewhat quieter fashion. After defeating Under 16's international Ethan Chichester he had very close 3–2 victories over internationals Dale Lawrence and Tom Rees who had an earlier 3–0 win over the highly rated Jak Jones. Jak was playing his first Welsh ranking event since coming off the pro tour and recovering from a broken elbow. Jak himself had beaten No.3 seed Kishan Hirani 3–1 in the previous round.
The final failed to produce the fireworks seen in some ofthe earlier matches. Both players played solid determined snooker but todayb elonged to Travis Furnish and he ran out a very deserved 3–0 winner.
Callum Lloyd 78, 49
Jamie Clarke 64, 50, 56
Travis Furnish 63, 50, 50, 44
Daniel Norris 61, 51, 50
Tom Rees 57, 40
Cory Rees 57
Edward Topham 48
Rhys Thomas 47
Macauley Cole 46
Results Table:
Travis Furnish
3
Duane Jones
2
Travis Furnish
3
Jamie Clarke
3
Jamie Clarke
1
Daniel Norris
1
Travis Furnish
3
Travis Furnish
Tom Rees
3
Edward Topham
0
Jak Jones
0
Tom Rees
2
Edward Topham
3
Edward Topham
3
Dale Lawrence
2