Under 14's Event Two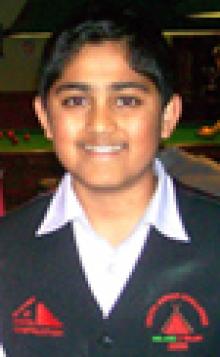 Suraj Singh(Cardiff) made it two out of two in Welsh Under 14's tournaments this season by winning this second event. He reached the final after a very tense semi final win over the promising Llewys Graham (Swansea)
Tyler Rees (Llanelli) reached the final after defeating Jack Jones (Caerphilly) Jack having done extremely well to get to the semi final in his very first tournament, which included beating club mate Ben Bridle at the quarter final stage.
The final was a repeat of Under 14's event one, with the same result a 3 - 1 win for the ever improving Suraj Singh.
The Plate
The plate competition was won by Bridgend's Lewis Burke (who is quite a plate specialist). He defeated Taylor Morgan 2 - 0 in the final.
Ranking List
At the half way point (two events left) the top 12 places on the Under 14's ranking list are as follows.
Suraj Singh 800 points
Tyler Rees 680 points
Llewys Graham 440 points
Rhydian Stringer 380 points
Mason J. Thomas 380 points
Lewis Samuel 380 points
Tom Davies 380 points
Iestyn Thomas 380 points
Taylor Morgan 380 points
Nathan Humphries 320 points
Scott Rolfe 320 points
Elliot Thomas 300 points
Results Table:
Suraj Singh
2
Scott Rolfe

0
Suraj Singh
2
Llewys Graham
2
Llewys Graham
1
Tom Davies

0
Suraj Singh
3
Suraj Singh
Jack Jones

2
Tyler Rees
1
Ben Bridle
0
Jack Jones
0
Tyler Rees
2
Tyler Rees
2
Lewis Samuel

1