Welsh Under 14's Ranking Event 1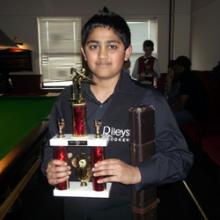 Suraj Singh (Cardiff) fresh from the experience of representing Wales at the recent home internationals showed superb match play form, and temperament, as he won this first event of the new season in fine style without dropping a frame.
With the new seeding system of only the top four ranked players from last season in operation for the first time, there were no real surprises as the four seeds all reached the semi final stage. Although 4th seed Lewis Samuel was given a fright by the very promising Jackson Page in the first round. After narrowly losing 2–1 Jackson did get some consolation by going on to win the plate.
Rhydian Stringer had a very nice break of 71 in his first round match. He missed a black of its spot using deep screw to try to get on the yellow when an almost straight pink into the middle pocket was probably the better option. This would have at least given him a shot at the yellow with a century beckoning.
Tyler Rees came through the bottom half where a tough 1st round draw paired him with fellow Under 14 international Tom Davies. Tom didn't produce the form we know he is capable of and Tyler went through 2–0. After beating Jack Martin Tyler then faced Rhydian Stringer in the semi-final. This was a cracking match with both players "going for their shots" Tyler got a few more than Rhydian and reached the final with a 2–0 win.
The final promised to be a close affair but Suraj showed what a good all round player he is developing into. A good mixture of potting and tactical awareness saw him through 3–0. Although Tyler was very unfortunate not to win the 3rd frame after getting caught in two foul and miss situations which cost him over 30 points.
The Plate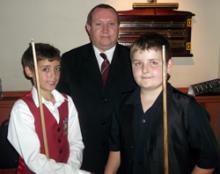 The plate competition was won by Jackson Page who had a superb final frame to pip Under 14s International Alfie Davies 2–1 in the final.
Results Table:
Suraj Singh
2
Daniel Lonegan
0
Suraj Singh
2
Lewis Samuel
2
Lewis Samuel
0
Ryan Bowgen
0
Suraj Singh
3
Suraj Singh
Tyler Rees
2
Tyler Rees
0
Callum Matthews
0
Tyler Rees
2
Rhydian Stringer
2
Rhydian Stringer
0
Jack Martin
0