Juniors Calendar, Event 5 Weekend - Results
Last weekend all the junior contingent descended on the Amlwch Snooker Club for two days of competition.
The saturday featured the Under 16s and the Under 21s events. Riley Powell reached the final of the Under 21s without dropping a single frame, although it has to be said that the frames were much closer than the scoreline suggests. Riley's semi final opponent was Sion Stuart, who himself was run close by the ever improving William Gwinnell and Jay Vokes. In the other half of the draw, Zac Cosker made strong progress, with a win over Oliver Briffett-Payne the highlight of his day. Zac took the opening frame of the final before Riley took the next three frames for the win.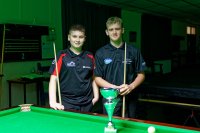 The Under 16s was full of drama. Kai Vokes came from 0-2 down to force a decider with new face Llywelyn Williams-Jones and was understandably upset to lose. Joel Williams was next up against Llywelyn and again this was final frame shootout. Llywelyn then faced Sion, who had reached the semi final with two 3-0 wins and Sion ran out a 3-0 winner. Riley again reached the final with 3-0 wins over Jack Taylor, Rio Chung and Jay Vokes. With time marching on, Riley edged Sion out of a close first frame and powered his way to a 3-0 win.
Sunday saw the Under 14s and Under 18s rounds contested. Sion Stuart beat Jack Taylor and Joel to book his place in the final, where Jay Vokes was his opponent after his wins over Spencer Collings and Rio. It was Sion who took the spoils 3-0.
The Under 18s was a real battle in many matches. Spencer took a frame off Logan Rawlings, Rio ran in a new high break of 48 in his 1-3 loss to Oliver, Zac took a 2-0 lead (including an 81 break) in his Quarter Final with Riley, before Riley stole frame 3 on the black to turn things around and wind up a 3-2 winner and needing a decider again to beat Ollie in the semi. Sion was his opponent in the final and the first two frames were both black ball affairs, Riley taking the win 3-0 to complete a notable treble.
All the photos from the weekend can be viewed on Facebook at THIS LINK