Hirani crowned Welsh Under 21's Champion 2012!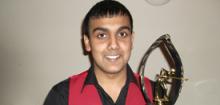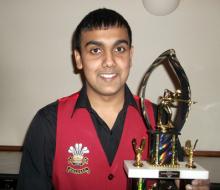 Cardiff's Kishan Hirani became this years welsh under 21s champion by winning this event, a win which also qualifies him for a place in the World under 21s championship to be played later this year in China.
In a close hard fought final Kishan just held off the challenge of Jamie Clarke who finishes the Under 21's series as top ranked player which means he can also look forward to a trip to china. Kishan reached the final after putting out international team mates Duane Jones and Tom Rees. His win over Tom Rees included the days highest break of 106 which ended when he wobbled the easy last red with a possible 141 looking a certainty.
Jamie reached the final with impressive wins over internationals Kristian Phelps and Edward Topham.
Highest Breaks
Kishan Hirani 106, 46, 42
Jamie Clarke 69, 58, 53, 49
Daniel Norris 64
Dale Lawrence 61
Tom Rees 57, 52
M Cole 44
Top six placings at end of under 21s series (4 events)
Jamie Clarke 850 points
Travis Furnish 680
Edward Topham 670
Duane Jones 630
Kishan Hirani 440
Tom Rees 420
Results Table:
Jamie Clarke
3
Kristian Phelps
0
Jamie Clarke
3
Edward Topham
3
Edward Topham
0
Daniel Bridle
0
Jamie Clarke
2
Kishan Hirani
Kishan Hirani
3
Kishan Hirani
3
Duane Jones
2
Kishan Hirani
3
Tom Rees
3
Tom Rees
1
Travis Furnish
2